Camp prepares young people for adventure by encouraging them to abandon a sedentary lifestyle, live healthier, and enjoy the great outdoors.
Camp provides an environment where lessons learned as well as memories made last a lifetime. In 2018, more 10,000 youth attended summer and year-round camp at Magness Adventure Camp,
Cris Dobbins, Camp Dietler, Camp Tahosa and Cub Scout Day Camps as well as our new indoor facility Colorado Adventure Point.
Choose a suggested level you would like to give at or choose your own amount.

Send 1 Cub Scout to Camp for 3 Days [$179.00]
Send 1 Boy Scout to Camp for one Week [$399.00]
Send 10 Cub Scouts to Camp for 3 Days [$1,790.00]
Send a Cub Scout Pack of 30 to Camp for 3 Days [$5,370.00]
Send 10 Scouts to Camp for a Week [$3,990.00]
Send a Troop of 30 to Camp for a Week [$11,970.00]
Other Amount - "Choose the Amount you wish to give"

3 Brothers Enjoy A Scouting Adventure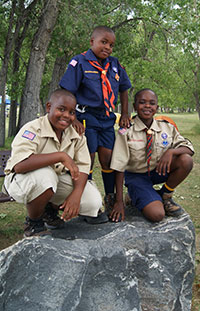 We'd anticipated this trip for a long time. Finally, finally, finally, we were going to Peaceful Valley and are so thankful for the Campership Program provided by the Denver Area Council (DAC).
When we arrived, it was impressive from the road, sprawling acres of land, full of possibilities. My three sons were so anxious and excited, but for different reasons. The oldest, Jalen, wanted
to be there but wasn't sure that he could handle the rigor of the trip. The possibility of 5 miles per day was daunting from his perspective, but he did not want to be left behind. So he came along.
MJ was excited about meeting new people, seeing and doing it all, and how many merit badges he might earn before the end of each day. They were both headed to Camp Cortlandt Dietler
and the sky was the limit. At registration, MJ saw two Denver Area Council Camp Staff that he knew. That made him more comfortable and I felt better that I would be leaving them with people
that I knew and trusted. Daddy Sykes and I took them up to the Buckskin Joe Campsite where we met Sam, and after asking several reassuring questions, we left, hoping for the best. Off to
Camp Magness with Jonathan. After registration, we went to Lost Creek to get settled in. We saw a tent city up ahead and were quickly welcomed in by the team. A young blond boy, Ryan,
was most helpful and eager to please. He and his team made sure that all were comfortable, well fed, and entertained. We had action-packed, fun-filled days. Conclusively, we conquered the
obstacle course, shot bb guns, played paintball sling shots, threw tomahawks, and canoeing, swimming, archery, row boating, made survival bracelets, and more. I went to Dietler to check on
the boys on my way out of town, sure that Jalen would be ready to go because it might be likely. When I got to Buckskin Joe's, Jalen asked what I was doing there, which was a sure sign that
he wasn't ready to leave. He whipped out a rope and said "Let me show you what I can do!" He dangled a rope in front of me and started making knots. He did a flying figure 8 and a bowline hitch!
MJ too! I was amazed and thrilled, yes about the knots, but more specifically because my boys were elated to be there.
They were learning things and eager for more knowledge and to earn rank advancements. Amen! How fabulous! I left there knowing that they were in good hands. When I returned on Saturday,
they had been head cooks for their group, had met lots of new people, had some horsemanship etiquette and knew lots more than when they came. They'd earned badges that made them so very
proud and I was honored during the last flag ceremony. I felt as if they had fully embraced the vision that I initially had for them prior to leaving on this trip. I pray that they return next summer to
experience Camp Cris Dobbins.