Youth and Parent Area
Are you new to the Popcorn Sale and want to learn more? Check out this video!
What Drives You to Sell Popcorn?
Do you want to fund your way to National Youth Leadership Training, Florida Sea Base, or Philmont? Perhaps you're planning a unit trip to Mt. Rushmore or Yellowstone. It could be that you want to build life skills like sales experience and social skills!
Four Ways to Sell
Show N Sell: As the name suggests, you show the popcorn and deliver it on the spot.
Show and Deliver: Show the popcorn now, and deliver it later.
Door-to-Door: Sell popcorn in your neighborhood. This is the most successful way and the most overlooked.
Online: Sell to friends and family who don't live in the area by using social media and email to market your sale.
For more information on each of these selling strategies, Click Here to see Trail's End library of videos.
How Can I Sell A Lot of Popcorn?
Sell the Scouting experience, not just the popcorn. What do we mean by this? You learn to tie knots, catch fish, build character, be a contributing member of society and anything else you can think of. Pitch this idea to the people around you who will support your missions more than just a popcorn sale.
Here's an example, squad: "My name is Pickachu, and I'm part of Pack 1. I am selling popcorn to earn my way to Philmont Adventure Camp. I'm excited to go with my friend Bulbasaur. Can you help me go to camp?"
S.M.A.R.T. Goals: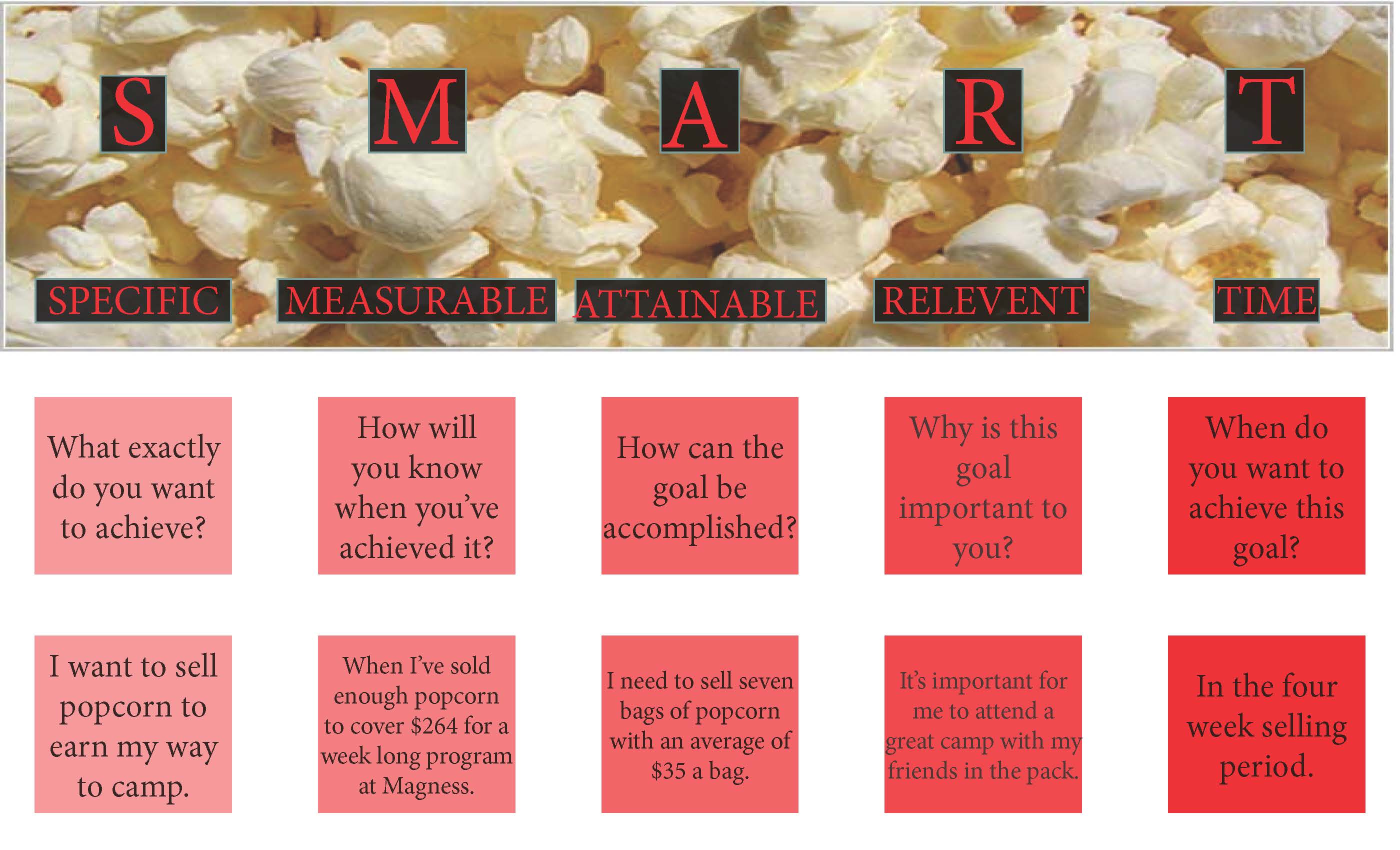 $1,000 Bonus Club
Cub Scouts and Boy Scouts that sell over $1,000 in Popcorn are eligible to participate in one of the following experiences: Cub Scouts who sell $1,000 or more will receive the Denver Broncos Package including the Broncos Experience, a membership into the Broncos Bunch, a T-Shirt and Broncos Swag. Boy Scouts who sell $1,000 or more will receive an evening of fun at Colorado Adventure Point including a T-shirt.
Helpful Links